French Antiques & Vintage, French, English & Scandinavian Collectibles, Art Deco & European Style Home Decor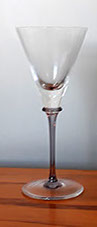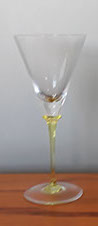 French Crystal
Martini Glasses
French Crystal Martini Glasses
(by French manufacturer Daum)
Beautiful, delicate French crystal glasses. They would make a lovely gift for Christmas or for a special occasion.
Choose from lime green or dark wine coloured stems.
French Art Nouveau Lamp Shade NZ$ 95.00
A French Art Nouveau Lamp shade found on our latest trip to France. This is in lovely condition, design and colour is of a calla lily.
Size is 22cm high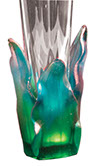 French Crystal Vase, with leave patterned
base in rich vibrant blues and greens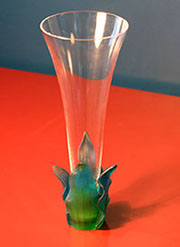 One of the loveliest little vases around made from French Daum crystal with a clear stem and a lovely aqua colored base, it would look gorgeous with a bouquet of spring flowers.
This would make a lovely gift for someone special, an engagement or a lovely wedding gift.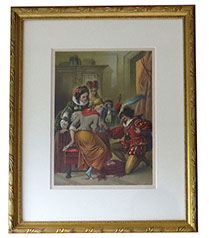 A delightful antique French print of Cinderella and Prince Charming set
in a new gilt edged frame.
The print was found in France and
we had it professionally framed.
In excellent condition.
A4 size approx)
Classical French Style
Tapestry Cushion
NZ$ 49.00
A beautiful tapestry fabric sourced in France and created into a lovely cushion
to compliment your decor.
Flower tapestry front in lovely soft colors with braid edging, and a plain linen like backing. Size is 40 x 40cm only.
PLEASE NOTE: Available in two styles; one with an envelope back
2nd with a domed back
French Art Deco pendent light fitting in rose coloured glass
French Art Deco Light Fitting NZ$150.00
A Beautifully made wooden box with brass features, the wood is either Teak or Mahogany, it is a lovely hardwood finished beautifully. We discovered this box on our antique & collectibles trip to England. Suitable for a jewelery box or other small items. Size: 13.5cm wide by 13.5cm deep and 6cm high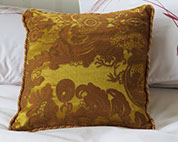 Gold Brocade Cushion
NZ$ 45.00
A brocade cushion that would look great in a French classical or Hampton style home.
Size 40 x 40 cm, insert included.
Art Deco Nice France 1933 Grand Prix Racing Poster
NZ$ 90.00
A fabulous Art Deco poster promoting the Nice Grand Prix in August 1933. Art Deco style. Size AO
(33.1" x 46.8")
Toulose Lautrec Poster Ambassadeurs
NZ$ 65.00
Toulose Lautrec is a famous French artist. We visited his museum in Albi, France and obtained two vintage posters of his most famous art work. Size: 50x70cm
Toulose Lautrec Poster
Divan Japonais
NZ$ 65.00
RETURN TO TOP OF PAGE
Unique European Antiques and Vintage
Explore our website and discover unique antiques and vintage
as well as collectibles and curios
FOR ALL ENQUIRIES RING 027 235 8333