French Antiques & Vintage, French, English & Scandinavian Collectibles, Art Deco & European Style Home Decor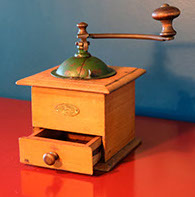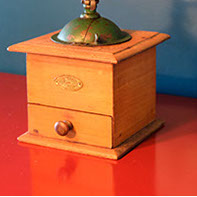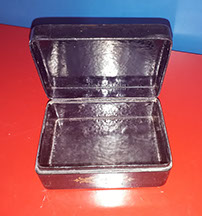 French Vintage Coffee Mill NZ$120.00
French Chinoiserie Box - very decorative NZ$ 95.00
French vintage Moulin Peugot (coffee mill).
In very good condition for it's age.
The makers brand is Peugot known for their quality coffee grinders. Made in France.
Perfect gift for coffee lovers, or your home or on display in
a coffee shop.
Size is 12cm wide by 18cm high including height of handle
French Chinoiserie box sourced on our recent visit to France.
It depicts a lovely Chinese design in gold and red on a black background.
Chinoiserie is a decorative style that was very popular in France in the late 19th century to early 20th century, using Chinese motifs and techniques.
This box is hinged and is 11cm wide, 7.5cm deep and 5cm high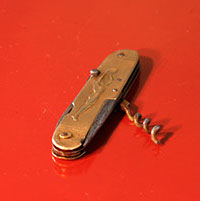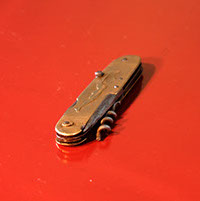 French Art Deco Waiters Bottle Opener NZ$125.00
French Sugar Tongs NZ$ 65.00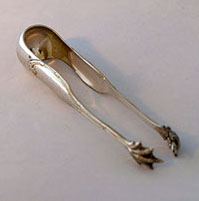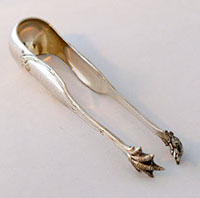 French vintage, silver plated, sugar tongs
These are silver plated and have a makers mark.
The sugar tongs are 15cm long.
Discovered on our latest trip to France.
A French vintage Art Deco Waiters Friend.
A very nice example of a French Art Deco bottle opener with
gymnastic images in brass on the outside and with tools used
by the waiters to open wine bottles etc.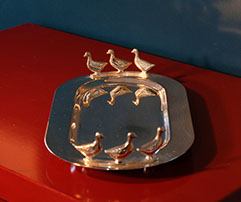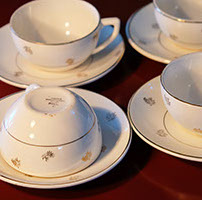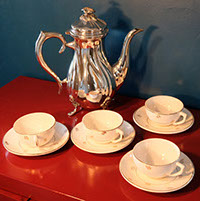 French Vintage Silver Serving Dish NZ$ 75.00
French Vintage Coffee Cup Set NZ$ 60.00
French Vintage silver plated tray, decorated with delightful ducklings on each end of the tray.
A really cute piece of French vintage silverware.
Discovered on our latest trip to France.
Size is 28cm long by 16cm wide.
A delicate coffee set (4 cups & saucers) in cream with a gold colored pattern. French vintage style at its best!
The model is called Nico 30. Made by Digoin, Sarreguemires France. The cups are 8cm wide and the saucers 13cm wide.
Set of four only. Coffee pot is not included - see separate listing.
French Art Deco Boules Trophy NZ$ 75.00
French Art Nouveau Paper Knife NZ$120.00
French Art Deco Boules (Petanque) trophy.
A Boules player, male figurine made out of metal on a black marble base with fine detailing on the figurine.
Discovered on our latest trip to France
The trophy is 18cm long, 7cm wide and 20cm high
A lovely French Art Nouveau paper knife,(1910 era) a period of time where art was influenced by nature and the feminine figure.
A time preceding the Art Deco period, the detailing is lovely and the amount of wear is in keeping for its age.
Made from brass. Size: 21cm long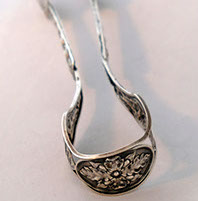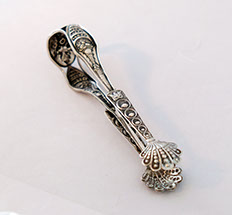 Danish Vintage Silver Coffee Pot NZ$150.00
Danish Vintage Silver Sugar Tongs NZ$ 75.00
A very elegant silver coffee pot, Danish vintage, discovered in Copenhagen on our latest buying trip.
In excellent condition. Silver plated from the 1930's.
Also shows a makers mark. It is 25cm tall.
Danish vintage ornate, silver plated sugar tongs.
Discovered in Copenhagen in the antique district.
Delicate, ornate and the perfect addition to your afternoon
tea party.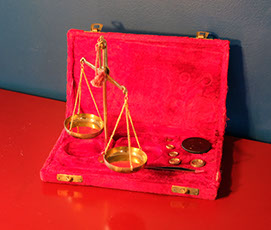 French Vintage Coffee Mill NZ$ 85.00
English Vintage Jewelers Scales NZ$ 75.00
French Vintage Coffee grinder made by Peugeot Freres Paris. It is aged but still works as a coffee grinder.
It is 12cm wide at the base and 18cm high including handle.
A set of English vintage brass jewelery scales with weights.
Complete set, comes in a red velvet case.
In excellent condition for its age.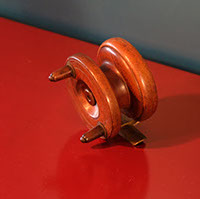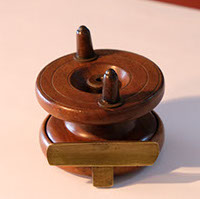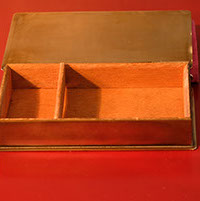 English Vintage Fresh Water Fishing Reel NZ$125.00
Swedish Vintage Cigarette Case NZ$ 95.00
English Vintage wooden fishing reel used for fresh water fishing. Early 20th century, solid wood and brass,
in excellent condition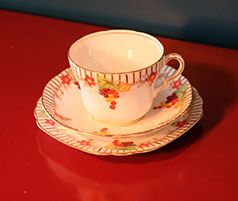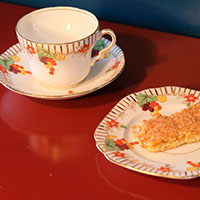 A vintage brass cigarette case from the 1940's from Sweden.
The outside is made of brass and the interior lined with wood.
There is a an embossed medallion on the lid depicting "hand to hand" and was a gift handed out to clients from an insurance company. Size is 15cm long, 9cm deep and 3cm high
Danish Vintage Nautical Clothes Hooks NZ$ 45.00
English Art Deco Tea Set NZ$ 60.00
These are Danish Vintage clothes hooks with yacht design metal board and cream coloured ceramic heads on the hooks.
Total number of hooks is three.
Great for a children's bedroom or a holiday home/ summer house/lake house.
A lovely Art Deco china tea set, English in origin and in lovely condition. Includes cup, saucer and cake plate.
Perfect for your afternoon tea party on the lawn or a gift for your mother or grandmother!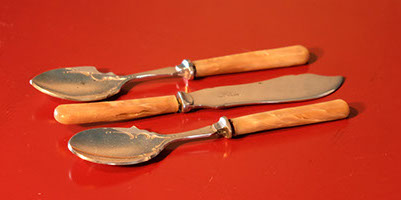 French Vintage Metal Sign NZ $20.00
English Vintage Afternoon Tea Serving Cutlery NZ$30.00
A french vintage metal sign on which is written
"Huile d'Olive, Nice, France etc.
Sign is small only 20cm high by 14.5cm wide
A vintage serving set, to be used when serving tea and scones.(High tea or afternoon tea) Includes a spreader and two jam spoons. In average condition. Comes in original box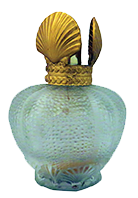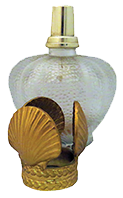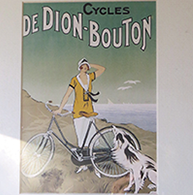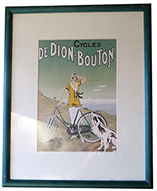 Berger 1920's French Perfume Infuser NZ$ 65.00
French vintage perfume infuser, styled by Berger, France.
Size: 16cm high and 11cm wide at its widest point
French Art Deco Print - Cycles de Dion Bouton NZ$ 25.00
French Art Deco print from the 1920's entitled
" Cycles de Dion Bouton" with dog, copy of the original print.
Lovely Art Deco style picture in an A4 size frame.
French Parisian Coiffure Illustration circa 1906 NZ$15.00
French Art Deco Light Fitting NZ$150.00
Vintage from the 1900s
A printed illustration for a Paris based hairdressing salon promoting hairstyles of the day.
From 1906. Illustration found on our buying trip to France.
Illustration is A4 or similar in size, some aging on the paper and slight water damage, but a lovely illustration none the less.
French Art Deco pendent light fitting in rose coloured glass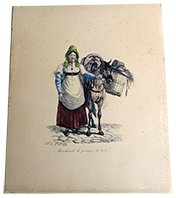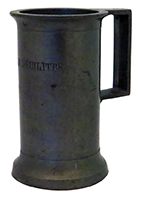 French Vintage Beer Measuring Cup NZ$15.00
Old French print of peasant girl potato seller NZ$ 35.00
Vintage from the 1900s
A little bit of French history. Back in time when you asked for a drink (usually a beer) at a bar it was measured with one of these Pewter measuring cup. Has Makers mark underneath.
Ideal for a collector of bar memorabilia or a gift for the guy that likes to entertain.
A print depicting from the French middle ages of a young girl leading a horse to market carrying potatoes to sell.
A water color print showing a bit of age, about A4 in size.
It has a signature as well.
This print was found at a market in France on one of our trips.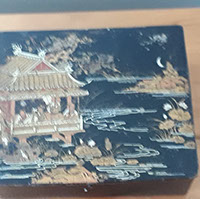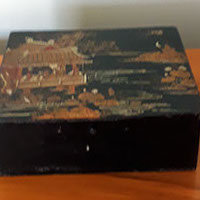 French Chinoiserie box - large NZ$195.00
French Vintage Musical Jewelery box NZ$ 65.00
A beautiful French Chinoiserie box with a lovely lakeside scene depicted on the lid of the box. Colors gold and red on a black background. This is a collectors piece.
Size is 18cm wide 15cm deep and 7cm high.
Made in 1910 to 1920 period when Chinoiserie style was popular in France.
A French vintage musical jewelry box with a Japanese country scene on the lid and inside there are two dancers models
which move when the winder is wound up and has a mirror on the inside of the lid. In average condition for its age. Very cute any little girl would love it.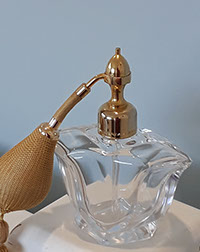 French vintage perfume atomiser with gold tassel NZ$120.00
French Antique Knife Rests NZ$100.00
A beautiful French vintage perfume atomiser in Murano glass with a lovely gold colored tassel and bulb.
Created by a well known French company.
It is 14cm in height and in fantastic condition.
A pair of French Antique knife rests in the shape of ducks and swans. Would have originally come from a much larger set but are unique and hard to come by in a complete set.
Made from pewter, they are a very rare find.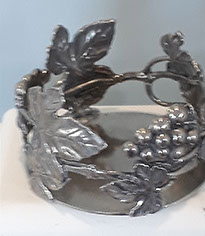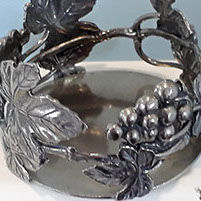 Decorative wine bottle holder NZ$85.00
French Artisan award winning watering can NZ$180.00
Calling all wine lovers who love to entertain.
Here is a lovely French vintage wine bottle holder, made from metal with a gorgeous leaves and bunches of grapes in the design.
Would make a lovely anniversary gift or for a wine lover.
A unique French handcrafted watering can, handcrafted from copper and brass.This was an award winning design at Une des Meillures Ouvries de France, which is held every four years
and is a unique and prestigious award created in 1924
A winner is chosen from range of artisans who are gifted in their craft and the award is is presided over the French President.
The winning candidate retains their title for life.
If you look closely you can see the award engraved on the side of the watering can.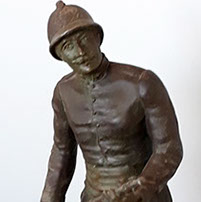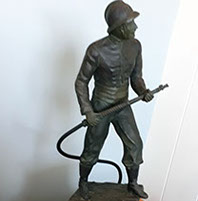 French vintage oval copper serving dish NZ$ 95.00
Le Pompier Statue (French Fireman) by Weisse NZ$250.00
A French vintage oval shaped copper finished serving dish with brass handles.
This is in lovely condition, it would make a serving dish at dinner parties. Size is 32cm long by 21cm wide.
Le Pompier, (French for fireman) statue in spelter.
With the signature of Weisse.
Statue found in France on our last buying trip.
Height 42cm and the base is 52cm round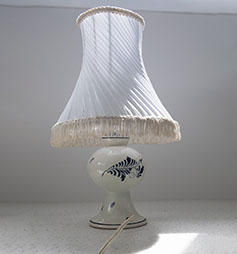 Ornamental Japanese Folding Screen Miniature NZ$ 85.00
A delightful vintage ornamental miniature Japanese folding screen, depicting a garden in cherry blossom with group scenes of people enjoying the delights of the gardens in blossom.
Nicely finished with brocade fabric and corner brass clasps.
Age unknown.
Vintage Deft Table Lamp NZ$ 65.00
A Vintage Dutch Delft Table Lamp. This is in lovely condition, with a traditional Dutch design of a windmill & flowers in blue
on a white base. Shade included. Size is 40cm high approx.
A vintage brass bell in the shape of a costumed lady. Stands 11cm high approx. Made in Belgium.
In excellent condition
Vintage Turkish pepper & spice grinder. Made from brass.
26cm high in good condition for its age.
RETURN TO TOP OF PAGE
Unique European Antiques and Vintage
Explore our website and discover unique antiques and vintage
as well as collectibles and curios
FOR ALL ENQUIRIES RING 027 235 8333